by David Marshall

The name derives from the helicopter used in the old TV Program "Riptide". "Just liked the sound of the name."
The UV2 Guinea Fowl feathers may be found at Sportsman's Warehouse, or Hobby Lobby (Hair feather section), or online. They are often hard to find but worth the search. Czech Glass Beads can also be found at Hobby Lobby.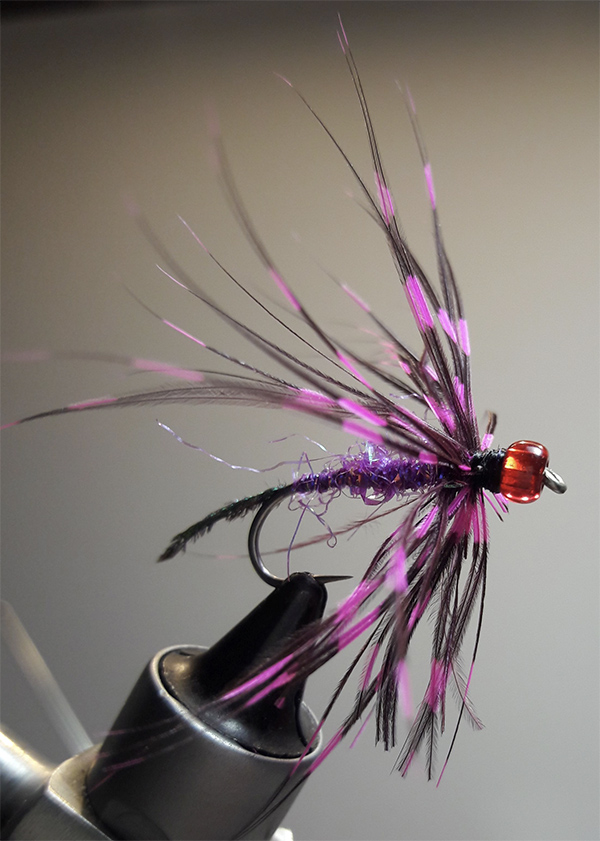 Materials
Hook: #8 3xl Streamer
Bead: Czech Glass Bead (Red)
Hackle: Guinea Fowl Hot Pink "UV2"
Body: Ice Dub UV Purple
Tail: Peacock Sword
Thread: 6/0 Black
Debarb the hook and slide the bead on to the hook
Start the thread behind the bead and wrap the thread to the hook bend
Select 4-6 fibers from a peacock Sword.
Arrange the fibers so that the tips are even and splayed out in all direction.
Tie in at the hook bend, extending about 1 hook gap in length.
Tie down butt ends and trim excess.
Bring the thread back to the bend.
Apply dubbing to the thread and wrap the dubbing forward to just behind the head. Leave some space for the large hackle feather to tie in.
Prepare a Guinea Fowl feather by removing the webby fibers at the base.
Tie in at the base, convex side to the back. Wrap 2-3 times and tie off.
DO NOT sweep the hackle back.
Whip finish behind the bead.
You may want to apply super glue to the area behind the bead.
This fly is very effective in the lakes Southwest of Spokane. Fish it deep and hold on tight.