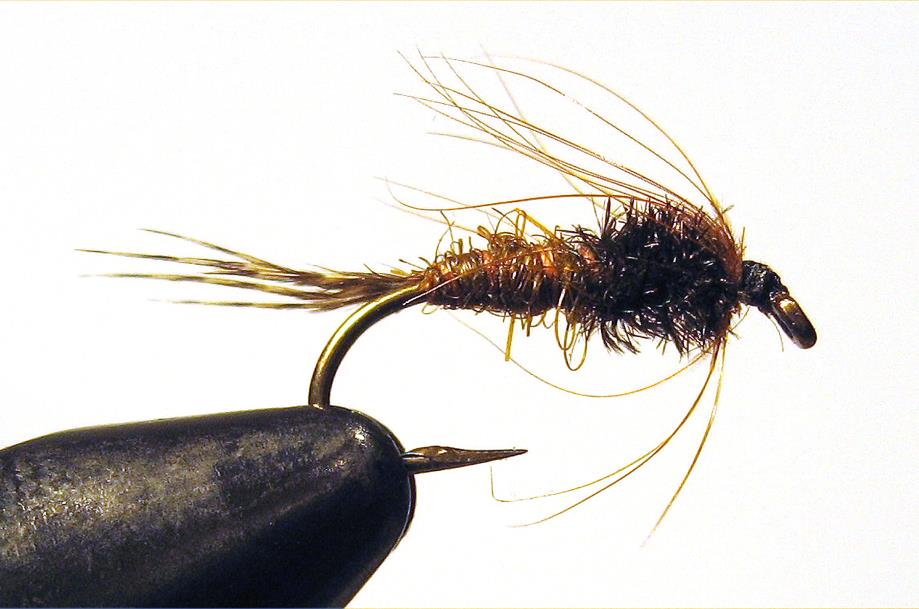 by Chet Allison, December 1985
In size 12 and 14 it is very effective when Mayflies are active especially Blue Wing Olives. Tied in size 8 it is effective on Dragonflies and Damselflies in the early spring when fished on sinking lines. Fish on a floating line in the shallows when the Mayflies are active .
Hook: 9672 size 8 &10, 3906 10, 12 and 14
Thread: 6/0 brown
Tail: lemon Woodduck or dyed Woodduck mallard breast feather
Body: olive/brown seal fur sometimes more brown than olive.
Rib: rusty brown "A" winding thread, abdomen only
Thorax: peacock herl
Collar: brown hackle fibers 2 wraps
Note: If the fly is tied in the round as this photo is you are done. If you choose to tie it nymph style size 8 or 10, add a Wing Case: pheasant tail fibers and Beard: (legs) brown hackle fibers
1. Wrap thread base with brown or black thread
2. Tie in lemon Woodduck or dyed Mallard for the tail about half to three Quarters the body length
3. Tie in brown rusty brown "A" rod wrapping thread for the rib. As you wrap the rib keep it twisted so it doesn't flatten out for the rib .
4. Build a dubbed body with a slight taper towards the front stopping about half the hook shank
5. Tie in Peacock herl (number of herl your choice as you work the different hook sizes) for the thorax, tie it nice and full but don't crowd the eye
6. Tie in the brown hackle giving it two wraps
7. Head of black or brown thread.
8. Now go fishing